Felix & Dykhuis is a company with a very long tradition. Already since 1887 we grow and trade in a large assortment of high-quality nursery stock. Our basic assortment is listed in our wholesale catalog which can be sent to you on request.
Being keen on new varieties we always try to improve upon our assortment. This year we have listed a number of new varieties.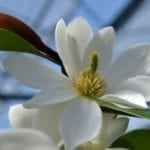 'Gail' stands for happiness, being full of life. That's exactly what Magnolia Gail's Favourite is! This Magnolia looks vibrant with its dark green foliage, a bushy and upright growth habit and white, fragrant flowers. 'Gail's Favourite' flowers abundantly in early summer. It has attractive golden-brown flower buds that feel as soft as suede. When the buds open, lovely white flowers with yellow hearts appear. Happy moments indeed! 'Gail's Favourite' is winter hardy to -15 degrees Celsius. It thrives in fertile, well-drained soil in a sunny spot. It can reach up to 2.50 mt high and 1 mt wide. It works great in a container on your balcony, patio or terrace. Also suitable in borders and mixed containers.